A Quote from Virgil Chambers, Executive Director of the National Safe Boating Council:
"Thousands of people would be alive today had they taken the simple step of wearing a life jacket when they went out on the water."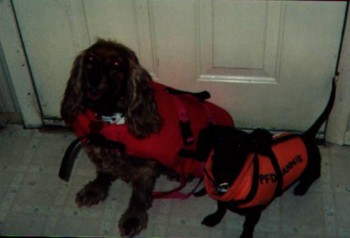 (Above) Here are Annie and Casey sitting together with their PFDs on. Casey's is a different style PFD, but still serves the same purpose. Casey sometimes swims with Annie, but doesn't swim as well as Annie.