Annie is a four year old Miniature Dachshund who lives in Baltimore, MD.
Annie volunteers as Annie the PFD Dog at North Point State Park in Baltimore, MD. She encourages Water and Boating Safety, as well as the importance of wearing a PFD. Annie is present at most park events, especially those which involve water and boating.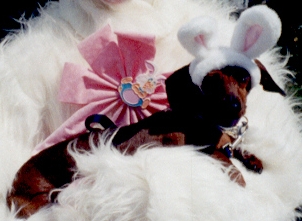 "Easter Annie" at an easter egg hunt hosted by a local park.
Annie is currently working towards several dog titles. She is training toward a Canine Good Citizen certification, and possibly for canine Agility or Obedience trials. In addition, she practices her swimming several times a week and occasionally attends park events.